Patrick Kane subject of a police investigation — report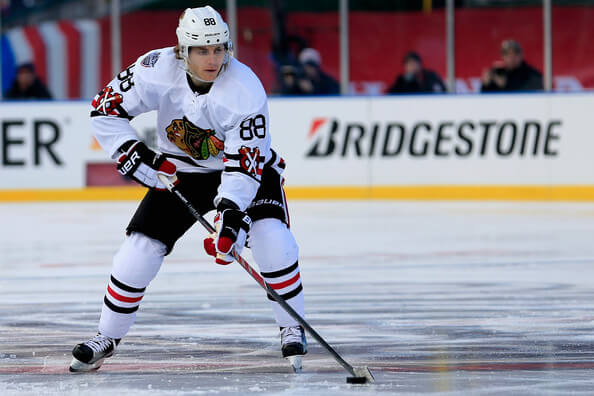 |
Blackhawks star Patrick Kane is the subject of a police investigation in Hamburg, N.Y., according to a report in The Buffalo News on Thursday.
From The Buffalo News:
Hamburg police are investigating an incident reportedly involving Patrick Kane, the Chicago Blackhawks star, two sources with knowledge of the probe have told The Buffalo News.

Two sources said Hamburg police officials have forbidden their officers and detectives from publicly discussing the investigation.
Kane stays in Hamburg, which is just outside of his hometown of Buffalo.
A Hawks spokesman did not respond to a request for comment.
No charges have been filed, according to the report, and it was unknown if police questioned the 26-year-old player.
Kane, of course, has had a history of off-ice trouble. He was arrested after an altercation with a cab driver in Buffalo in 2009, and admitted it was "time to grow up a little bit" after being photographed shirtless in a limousine in Vancouver in 2010. Then in the summer of 2012 came his infamous Cinco de Mayo partying in Madison, after which embarrassing photos of him were all over the Internet.
It was all mostly written off as youthful indiscretions, the product of being young, rich and famous. And it was all supposed to be behind him.
Over the past three seasons, his maturation off the ice has been as dominant a story line as his spectacular play on the ice, written about countless times in countless publications. He has been in a relationship with girlfriend Amanda Grahovec for nearly three years.
"You feel you're kind of invincible," Kane said in March of 2013 of his younger days. "But all that stuff was my fault. It's been humbling to go through those things. I'm a different person now and I've changed a lot. I'm moving on."
It even had become something of a running joke, with Kane telling the crowd at the Hawks' championship rally at Soldier Field in June, "I know you said I've been growing up, but watch out for me for the next week."
Last July, after he and Jonathan Toews signed their matching eight-year contract extensions, Kane expressed his gratitude to the team for sticking by him through his off-ice travails.
"I was obviously grateful for the trust and the faith and support given to me by the organization and the front office, and even my teammates, as well," Kane said. "I think everyone kind of goes through their different maturation process and maybe mine was a little delayed compared to other guys."