TJ Oshie Ready for 'Exciting New Chapter' in Washington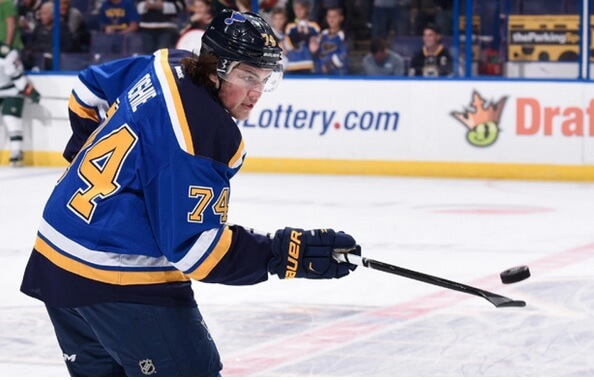 |
TJ Oshie's new home with the Washington Capitals
Fans began lining up early Saturday morning, packing the top mezzanine at Kettler Capitals Iceplex. After 400 people were in their places, no more spots were issued. Caps fans were eagerly awaiting their first interaction with TJ Oshie, acquired last week from the St. Louis Blues in exchange for Troy Brouwer, goaltending prospect Phoenix Copley, and a third round pick in next year's draft. Oshie had landed in Washington the day before and would be signing autographs after meeting with local reporters.
"It was really hard to talk yesterday," Oshie, sporting his new number 77, said in conference room at Kettler. "My fiancée and me were walking around. I was just so excited after talking to the coaches that I just want to start playing right away."
"It was just their excitement for the season to start and the excitement for our team," he added buoyantly. "You can just tell that they're fired up and they got me fired up even though we're a couple months away."
If Oshie sounded manic, it may have something to do his plans for this month. On July 20, Oshie, his fiancee Lauren Cosgrove, and couple's new daughter will move into a new house they had built outside of St. Paul. Five days later, Cosgrove and Oshie will get married, less than a month after Oshie was traded to Washington.
Saturday was just another moment in Oshie's hectic July. He started the day off by catching up with Brouwer as the former Capital left the ice at Washington's training facility.
"I guess it's a little awkward, but it's part of the business," Oshie, who has texted Brouwer about possible places to live around Arlington, said Saturday afternoon. "We were both pretty mature about it."
With training camp about two months away, Oshie has the rest of the summer to let his new life fall into place. In the fall, he will fill a much needed hole as a top-six right wing in Washington, on a team that looks to win its first Stanley Cup. While the Capitals haven't had much success in the playoffs, neither has Oshie. Both parties are hoping his addition changes that.
"It's going to be a new chapter," Oshie said. "An exciting new chapter."