Top 5 Hockey Knockouts of the Decade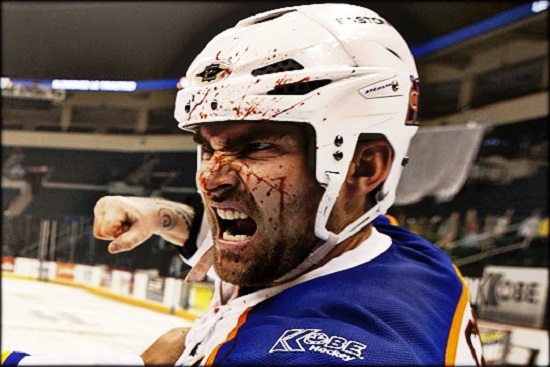 |
Video: Watch the Best Sports Fights Ever!
Brutal hockey fights come in all shapes and sizes from the one-punch wonders that leave one of the two competitors out cold on the ice to the brawls that are built on long rivalries which build up to bench-clearing melees. On occasion, sometimes the fights have even extended beyond the ice into the stands as the fans fight with players, like the notorious incident in 1979 when members of the Boston Bruins tussled with New York Rangers fans at Madison Square Garden.
Which hockey fight is the best? That's a topic that will be argued upon by hockey fans around the globe for eternity. Some fans, when considering the biggest hockey fight, will point to the 1997 "Brawl in Hockeytown" when old scores were settled as the Detroit Red Wings and Colorado Avalanche were involved in a game with no less than nine huge fights. Others will argue that it was the 2004 tilt between the Philadelphia Senators and Ottawa Senators that takes the cake as five fights closed out the game and set an NHL record for the most ejections in a game (20) and the most penalty minutes in a game (419).
Like hockey coach meltdowns, brutal fighting isn't just a thing for North America hockey. The actual world record for penalty minutes in a single game is owned by the Kontinental Hockey League in Europe and Asia. On January 9, 2010, players from the Vityaz Chekhov and Avangard Omsk cleared the benches for a massive brawl. Both coaches and 35 players were ejected while 707 penalty minutes and nearly $200K in fines followed.
Whichever fight you like best, it's hard to argue that these brutal hockey fight videos and hockey fight clips are not some of the craziest of all time. Tell us which bloody brawls you like best by voting for your favorites, re-ranking this list and adding others we've missed below!
What are bloody hockey fights? Take a look at these videos and see for yourself and yes, there will be blood.